HAEGER 516 Plus
Condition:


New

Manufacturer:


HAEGER
About HAEGER
Haeger manufactures hardware insertion machines and is the leader in the development of innovative fastener insertion solutions. Well known for its full line of machines with innovations such as their SingleTouch Part Handling Technology. Create Hardware Insertion Profit Centers™ by boosting your hardware insertion productivity with Haeger advanced technologies, optimizing labour, safety and improving quality.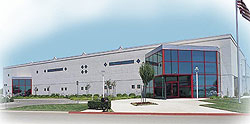 Product Details
Fully Hydraulic System
The 516 is extremely accurate and allows the operator to apply full tonnage at any point in the stroke. This allows the use of any tooling length and thus, the ability to fit nearly any shaped workpiece in the machine.
Low Energy Usage
The single phase hydraulic system of the 516 machine uses approximately 50% less energy than air or air-over-oil systems, making it less expensive to operate.
Operator Safety System
Haeger's patented safety system is effective at any point in the ram stroke irrespective of the tooling length, requiring no setup by the operator, thus not affecting initial machine setup time.
J-Frame Attachment
Allows the insertion of up to M5 nuts, studs
Photo Gallery