About COSTA
Costa Sanders stands for innovation in the field of treating metal surfaces. Our product lines cover the spectrum of abrasive surface preparation including tolerance grinding, slag and burr removal, oxide removal, deburring, edge-rounding, graining or abrasive polishing and finishing. Modular in design and assembled to suit our customer's specific needs will provide maximum performance and finish. Able to handle any level of production and any size material to be processed. If you work metal with a laser, plasma or oxy-fuel cut, ask us how processing your parts in a Costa machine can efficiently improve your techniques and save you up to 60% compared to conventional grinding machines.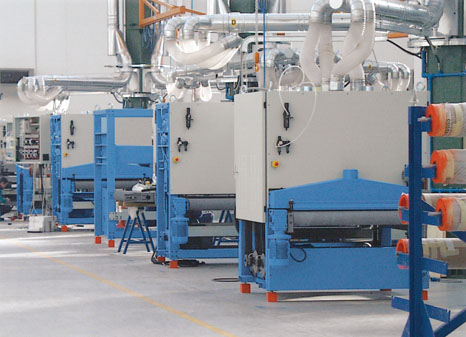 Product Details
The MB2 is equipped with one bottom and one top XVS multifunction brushing units for all deburring operations and oxide removal, in a single pass.


These units are composed by a series of vertical brushes, rotating at high speed (inverter controlled) and oscillating side-ways at adjustable rate of oscillation. Combining the vertical axis rotation with high frequency oscillation, allows to achieve a perfect deburring in all directions with a single working unit.


The XVS unit is ideal for a multitude of operations:
deburring, oxide removal, edge rounding, etc.
The flexibility of the abrasive brush cups ensures a perfect burr removal even on upformed parts, as well as on PVC protected, galvanized, pre-painted, zinc coated, etc. materials


The adjustment of the working pressure is electronically controlled and visualized in the main panel.


The pressure units are very close to the brush units to process small parts.


The XVS units are extractable to allow an easy tool change and regular maintenance. They are prepared to operate with standard low-cost brush cups, as well as more specialized, custom, brushes.
Available Working Units:
Vertical Cross Brushes
Bottom Vertical Cross Brushes