About ACCURPRESS
With over 40 years in the marketplace, Accurpress continues to build on its tested history to manufacture an innovative by offering a complete line of press brakes & shears for every bending/shearing application. Proudly North American made, Accurpress leads the way with high tonnage machines, revolutionary pole bending technologies, tandem machines and robot automation. With over 19,000 machines sold to thousands of satisfied customers, Accurpress continues to build press brakes and shear technology to meet the demands of manufacturing environments. Since Accurpress's beginning we have seen huge changes to the machine tool industry and to this day, everyone at Accurpress continues to stand firm on the original foundation of quality that the company was built on. Every Accurpress machine, including the one you'll buy, is made with 100% of their best efforts. Our business depends on it and so does yours. At Neiman Machinery we're more than an Accurpress Dealer, we are a proven partner providing you service you can trust, support you can rely on. Let us show you why Accurpress is North America's # 1 selling press brake by contacting us now.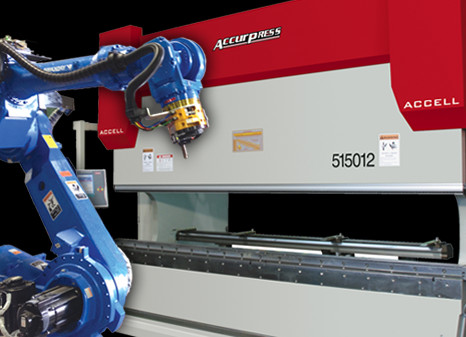 Product Details
Accurpress Advantage
The Advantage Rocker Arm has stood the test of time with thousands of machines shipped all over North America. Offered in a wide range of available sizes from 25 tons to 3000 tons.
Features
These standard features are what have made the Rocker Arm so capable of handling a wide variety of application demands.
Unique Design: The unique "Rocker Arm" Design of the Advantage machine been tried and proven in a vast number of shops ranging from high precision sheet metal to heavy fabrication applications. A torque Tube connecting the side frames gives exceptional stability through the forming process.
Power Ram Tilt: The power ram tilt adjustment allows for easily leveling the ram, optimizing ram trim to match various tooling characteristics and doing fade out work. It is easily adjusted via push buttons located on the operator control station.
High Repeat Accuracy:+/- 0.001 Repeat accuracy thanks to the superior hydraulic design and encoder systems. Upgrade the hydraulics to achieve even better accuracy of +/- 0.0004
Hydraulics: Side mounted Hydraulics allow for easy access to all components and are underneath a removable protective cover. All high quality North American parts are easily replaced if necessary.
Tool Compatibility: The Advantage comes equipped with the American tool style manual clamping system. Hydraulic clamping systems from other major manufactures such as Wila and Wilson can also be installed.
Flush Floor Mount: The heavy I-beam design on larger Accurpress models greatly reduces bed deflections to achieve optimum forming quality and eliminates the need for below-the-floor bed members on models up to 600 ton capacities, except for few smaller tonnage models of twenty foot and above lengths.
Controls
ETS Control
This simple and reliable controller comes standard for all Rocker Arm and Advantage machines.
Features:
Controls Ram and Backgauge X Axis
4 line LCD Display
100 on Board Programs
9 Steps per Program
Easily Set and Save Ram Positions
Tonnage Mode Programming
ETS3000 Control Upgrade
The ETS3000 Control offers an exceptional level of automation in press brake operation, producing significant time savings with its powerful and intuitive interface.
Features:
Touch Screen Control
Teach Mode Programming
Automatic Bend Sequencing
Complete Control over all Axis
Simple Bump Forming
Creates Programs in Just Minutes
Easy Angle and Flange Adjustments
*ETS3000 Upgrade is available for this and other models.
Vision to ETS3000 Upgrade
Use Visions powerful 3D bend simulator to create programs that can be directly imported to the ETS3000 control. This saves time in programming and gives the operator a 3D visual as they are forming parts.
Backgauges
Premium Backgauge
The Premium backgauge is Accurpress' standard backgauge, available for all makes and models of Accurpress press brakes. Available in lengths from 6' to 24', the Premium backgauge is built with large section extrusions and roller carriage castings that maintain strength and accuracy over the life of the machine. The Premium backgauge is easily maintained and serviced and can be upgraded to powered R and Z1/ Z2 axis as well as manual X Prime.
Titan Backgauge
The Titan backgauge is the world's strongest backgauge built specifically for large tonnage Accurpress models. Every component for the Titan, including the oversized gauging fingers, has been engineered and sized to withstand huge shock loads and massive forces. Each X-axis is capable of a 65,000 lbs of static and 20,000 lbs of dynamic load capacity. This rugged backgauge features servo-drive motors, lifetime lubricated precision linear bearings and an unsurpassed ability to handle the heaviest of structural plate applications.
Options
The Advantage Rocker Arm has several options that can be added to meet specific requirements for performance and forming applications.
Advantage Package: Machine performance is increased by adding the Advantage package upgrade. Hydraulics that meet accuracy of +/- 0.0004, Dual Ram feedback system for off-centre bending and ram tilt indicators are all included in this package.
ETS 3000 Control: Sketching a part profile, defining angles and flanges and simplified program adjustments are just a few features that make this CNC control a significant upgrade. Click HERE for more information.
Front Support Arms: Standard support arms, available in 24" and 36" lengths, can be installed via a t-slot machined left to right in the front bed or bolted directly to the front bed. Precision support arms are also available and are mounted to a linear rail and come complete with squaring arms and quick height adjustment capabilities.
Advantage Sheet Followers: The Sheet Follower System follows material during the bend. The Sheet Follower table is fully synchronized with bend speed and bend angle.
Safety Guarding: Operator safety is of up-most importance to Accurpress. That is why we offer several options to meet all safety requirements.
Safety Systems
Operator safety is of up-most importance to Accurpress. We offer many options to meet the safety requirements of your forming applications.
Laser Guarding Systems: Accurpress press brakes can be equipped with either Lazersafe or Feissler Laser Guarding systems. This safety system allows the operator to work within close proximity (15mm) of the point of hazard while the tools close at high speeds. If an obstruction brakes the parallel beam across the tooling, Ram motion is immediately halted. This significantly increases the productivity of the press brake while constantly monitoring the point of hazard.
Light Curtain: Light Curtain Guarding consists of a transmitter and receiver along with the controller, which is designed to meet the appropriate OSHA and ANSI standards when set correctly for the job. In operation, the curtain extends a "curtain of light" in front of the hazardous area.
If a workers hand breaks the "curtain", a signal is sent to the stop circuit on the machine. The curtain offers floating blanking and exact channel select to allow the operator versatility with various bending operations. In addition, the light curtain allows for muting in the slow pressing speed. External limit switches are adjusted for the appropriate muting location.
Rear Guarding: Accurpress offers a rugged, modular aluminum gate that prevents operator access to unsafe work areas behind the machine unless the access door is utilized. When the access door is opened a safety interlock switch prevents the machine from turning on while operator accesses the backgauge area.

Rear Guarding is available for all press brake models and is a standard feature for machines equipped with either a 6-axis or Titan Backgauge.