GEKA SEMIPAXY
Condition:


New

Manufacturer:


GEKA
About GEKA
Neiman Machinery Sales Inc. is the Canadian importer and master distributor for GEKA products. We offer superior knowledge and technical support, therefore, providing you with prompt and informative responses to your questions or service-related concerns. Our vast knowledge and experience in the metal fabrication machinery trade provides confidence. We will be glad to help you determine if a GEKA Ironworker, Punching Machine or an Automated Steel Processing Line will be the right choice for you. As the Canadian Importer/Distributor we have a comprehensive dealer network across Canada which will support you with sales, training, service, technical support and application engineering. Like our own staff, our dealers take part in our yearly factory training as well as attend other educational seminars and personal improvement courses. What does this mean for you? It's your insurance that you'll have the backing of a Certified GEKA Dealer to lend a hand whenever you need us.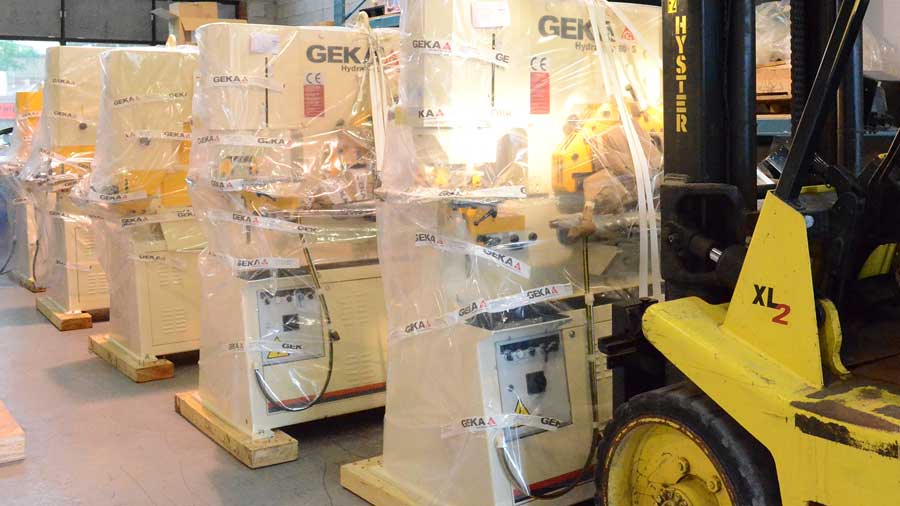 Product Details
Versions:
X 1000: Accomodates material with a maximum length of 1000 mm [40"]
X Plus: Accomodates extension devices for longer material: 2000, 3000, 4000, 5000 and 6000 mm (78 3/4", 118 1/8", 157 1/2", 196 7/8", and 236 1/4")
Maximum Widths according to Model:
HYDRACROP or PUMA (500mm / 20" throat) = 400mm / 15 3/4" Y Gauging
HYDRACROP Models 110SD and 165 SD = 500mm / 20".
PUMA (750mm / 30" throat) = 650mm / 25 5/8" Y Gauging
Basic features:
Support chassis
Two servo motor-driven positioning carriages
Touch screen
Conveyor assembly consisting of independent servo drives along each axis, spindle and encoder units
Standard operation:
1) Program the coordinates of each position (absolute or by increments).
2) Run the application (sets the automated stops for the first position).
3) Place material securely against the stops and depress the punching pedal.
4) Once the cycle is complete, the automated stops reposition themselves for the next programmed location.
5) Repeat the sequence until the end of the program.
Media Gallery