ACCURPRESS Press Brake Advantage
Condition:


New

Manufacturer:


ACCURPRESS
Model:


Advantage

Status:


For Sale
About ACCURPRESS
With over 40 years in the marketplace, Accurpress continues to build on its tested history to manufacture an innovative and complete line of press brakes & shears for every bending and shearing application. Proudly North American made, Accurpress leads the way with high tonnage machines, revolutionary pole bending technologies, tandem machines and robot automation. With over 19,000 machines sold to thousands of satisfied customers, Accurpress continues to build press brakes and shear technology to meet the demands of today's manufacturing environments.
Since the beginning, Accurpress has seen huge changes to the machine tool industry and to this day, everyone at Accurpress continues to stand firm on the original foundation of quality that the company was built on. Every Accurpress machine, including the one you'll buy, is made with 100% of their best efforts. Our business depends on it and so does yours, that's why at Neiman Machinery we are more than an Authorized Accurpress Dealer (serving Ontario, New Brunswick, Prince Edward Island, Nova Scotia and Newfoundland). We are a proven partner with Accurpress providing you with prompt & reliable service you can trust and deserve. We are ready to serve you and look forward to the opportunity to show you why Accurpress is North America's # 1 selling press brake and shear manufacturer.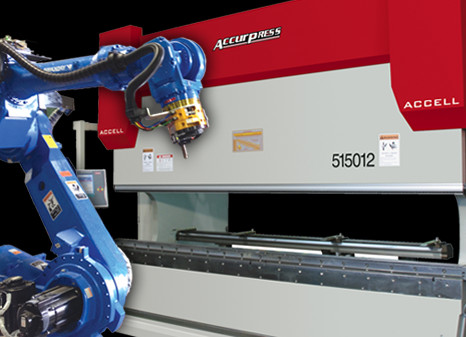 Product Details
The Advantage Rocker Arm has stood the test of time with thousands of machines shipped all over North America. Offered in a wide range of available sizes from 25 tons to 3000 tons.
These standard features are what have made the Rocker Arm so capable of handling a wide variety of application demands.
Unique Design: The unique "Rocker Arm" Design of the Advantage machine has been tried and proven in a vast number of shops ranging from high precision sheet metal to heavy fabrication applications.
Power Ram Adjustment: The Power Adjustment allows for fine adjustments of the ram level, optimizing ram/bed parallelism to match various tooling characteristics and doing fade out work. It is easily adjusted via push buttons located on the operator control station.
Forming Accuracy: Accurpress Rocker Arm machines maintain consistently high repeat accuracy over years of dedicated usage; a testament to the quality and longevity of this machine. The optional Advantage Package adds proportional valve and dual ram encoders which enhances the overall full length bending accuracy for off-centre and stage bending applications.
Quality Components: Accurpress adheres to the highest standards of workmanship utilizing hydraulic, electrical, and mechanical components recognized the globally for their high quality and standards of perfection.
Tooling Compatibility: The Accurpress Advantage is machined to accept American tooling or otherwise prepped for optional Hydraulic Clamping Systems integrated to the machine.
Upgrade Options: Accurpress machines are built to last for many years of heavy usage. CNC Gauging, upgrades and various accessories may be added at later dates to meet production demands and/or challenging applications.
Photo Gallery