About ACCURPRESS
With over 40 years in the marketplace, Accurpress continues to build on its tested history to manufacture an innovative and complete line of press brakes & shears for every bending and shearing application. Proudly North American made, Accurpress leads the way with high tonnage machines, revolutionary pole bending technologies, tandem machines and robot automation. With over 19,000 machines sold to thousands of satisfied customers, Accurpress continues to build press brakes and shear technology to meet the demands of today's manufacturing environments.
Since the beginning, Accurpress has seen huge changes to the machine tool industry and to this day, everyone at Accurpress continues to stand firm on the original foundation of quality that the company was built on. Every Accurpress machine, including the one you'll buy, is made with 100% of their best efforts. Our business depends on it and so does yours, that's why at Neiman Machinery we are more than an Authorized Accurpress Dealer (serving Ontario, New Brunswick, Prince Edward Island, Nova Scotia and Newfoundland). We are a proven partner with Accurpress providing you with prompt & reliable service you can trust and deserve. We are ready to serve you and look forward to the opportunity to show you why Accurpress is North America's # 1 selling press brake and shear manufacturer.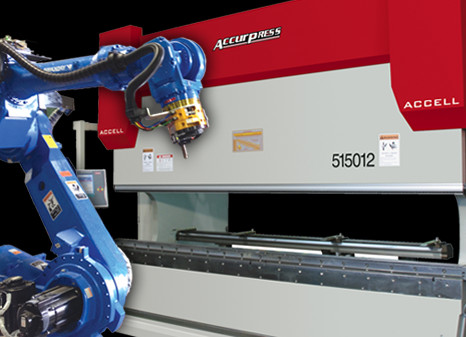 Product Details
The North American built Accurshear is a combination of simplicity and a strong, proven design. This heavy duty shear can tackle any application. Models range from 10 gauge x 6 ft all the way to 1" x 20 ft.
The standard features of the Accurshear have set it apart in the industry and ensured continued success with thousands of machines shipped across North America.
Ultra Heavy Frame Structure: The Accurshear is designed with a fully welded boxed-in bed table structure that has a high torsion stiffness to balance the torsion load from the cutting force. The maximum rigidity of the unique design, combined with the table design, ensures constant blade clearance during the shearing cycle.
Highest Shear Rating Capacities: All Accurshear models are rated to shear structural quality steel with typical mechanical properties up to 80,000 tensile and 44,000 yield strength.
Quality Blades: The Accurshear uses the highest quality shear blades, specially developed to minimize re-sharpening. Depending on the shear capacity, either high carbon, high chrome, or high carbon/shock resisting blades are used for shearing a wide range of metals.
Heavy Duty Backgauge: Strength, rigidity and accuracy combine to produce a solid and reliable backgauge. High accuracy's are achieved via precision ACME lead screws, running on roller bearings, producing longevity and low friction. When the backgauge is run back to the full travel distance it will mechanically lift up, enabling the shearing of longer pieces.
Manual Gap Adjustment: Blade clearance is adjusted manually on Accurshear models 62506 through 650012 by a hand lever on the side of the machine, which is easily rotated for the appropriate gauge of metal. The 6135 series model has a fixed blade setting, while the 650014 and larger models have a powered system - operated by a selector switch from the front console.
Simple Controls: Turn the machine on/off, set the backgauge, stroke length and Run Mode quickly and easily all from the main shear control console. Simple to use and standard for all models.
Squaring Arm: Located on the left end of the table is the 4' squaring arm with a steel rule measuring in 1/16" as well as 1 mm increments.
Options
Ball Transfers in Table: Ball transfers mounted in the table are a standard feature on all Accurshear models 6500 and larger. They assist the movement of heavy materials over the table surface and may be ordered as an option on 6135, 6250 and 6375 series models.
Holddown Pressure Control: Some sensitive materials may experience marking under standard holddown pressures. This optional holddown pressure control provides pressure adjustment from 0 to 3,000 psi and is easily adjusted from the operator's normal work station.
High Speed Hydraulic Package: This system offers approximately 30% faster cycle times than the standard package. Horsepowers and pump volumes increase with this option. This option is not available for the 6135 series models.
Holddown Pads: Holddowns can be equipped with urethane pads to eliminate marking of aluminum or other sensitive materials.
Front Arms/Recessed Scales: Front arms are available in 2', 4', and 6' lengths and simply mount to the front of the shear table. These arms are t-slotted and equipped with disappearing stops to facilitate front gauging. It's recommended that the arms also be purchased with an inch/metric reading scale recessed into the arm along with a t-slot and recessed scale in the shear table. Ball transfers may be purchased, which are mounted into the arms to provide ease of handling heavy large plates.
Longer Squaring Arms: A longer squaring arm may be required to accurately square larger sheets. 6', 8', 10' and 12' arms are available as an option. The squaring arm length is measured from the cut line. Each arm includes a recessed steel rule measuring 1/16" and 1mm increments... plus one adjustable sliding stop. Ball transfers mounted into the arms are a recommended option for the 6500 series and larger models.
Shear Automation: It is estimated that material handling consumes up to 95% of a shear operator's time. Accurpress offers automated systems that will greatly reduce inefficiencies in shearing applications.