ACCURPRESS Precision Tooling
Condition:


New

Manufacturer:


ACCURPRESS
About ACCURPRESS
With over 40 years in the marketplace, Accurpress continues to build on its tested history to manufacture an innovative and complete line of press brakes & shears for every bending and shearing application. Proudly North American made, Accurpress leads the way with high tonnage machines, revolutionary pole bending technologies, tandem machines and robot automation. With over 19,000 machines sold to thousands of satisfied customers, Accurpress continues to build press brakes and shear technology to meet the demands of today's manufacturing environments.
Since the beginning, Accurpress has seen huge changes to the machine tool industry and to this day, everyone at Accurpress continues to stand firm on the original foundation of quality that the company was built on. Every Accurpress machine, including the one you'll buy, is made with 100% of their best efforts. Our business depends on it and so does yours, that's why at Neiman Machinery we are more than an Authorized Accurpress Dealer (serving Ontario, New Brunswick, Prince Edward Island, Nova Scotia and Newfoundland). We are a proven partner with Accurpress providing you with prompt & reliable service you can trust and deserve. We are ready to serve you and look forward to the opportunity to show you why Accurpress is North America's # 1 selling press brake and shear manufacturer.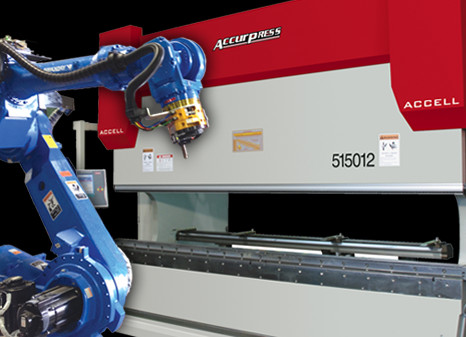 Product Details
The Accurpress precision tooling line has been designed and manufactured to fill a void in the current North American tooling market between general purpose +/- 0.003" and high-end precision +/- 0.0004" tooling.
Precision grade, holding tolences at +/- .0008" and sold at very cost effective pricing. These tools come in a maximum length of 515 mm (20.28") and are produced on high-precision creep feed grinding machines. Each section is laser etched with full descriptionof the tool as well as its maximum tonnage/foot rating. Thye working radii is induction hardened to a minimum of 50 HRC to ensure long-term performance.
Quality control during the manufacturing process and the use of certified materials ensure you excellent value and quality tooling.
Photo Gallery