About ACCURPRESS
With over 40 years in the marketplace, Accurpress continues to build on its tested history to manufacture an innovative and complete line of press brakes & shears for every bending and shearing application. Proudly North American made, Accurpress leads the way with high tonnage machines, revolutionary pole bending technologies, tandem machines and robot automation. With over 19,000 machines sold to thousands of satisfied customers, Accurpress continues to build press brakes and shear technology to meet the demands of today's manufacturing environments.
Since the beginning, Accurpress has seen huge changes to the machine tool industry and to this day, everyone at Accurpress continues to stand firm on the original foundation of quality that the company was built on. Every Accurpress machine, including the one you'll buy, is made with 100% of their best efforts. Our business depends on it and so does yours, that's why at Neiman Machinery we are more than an Authorized Accurpress Dealer (serving Ontario, New Brunswick, Prince Edward Island, Nova Scotia and Newfoundland). We are a proven partner with Accurpress providing you with prompt & reliable service you can trust and deserve. We are ready to serve you and look forward to the opportunity to show you why Accurpress is North America's # 1 selling press brake and shear manufacturer.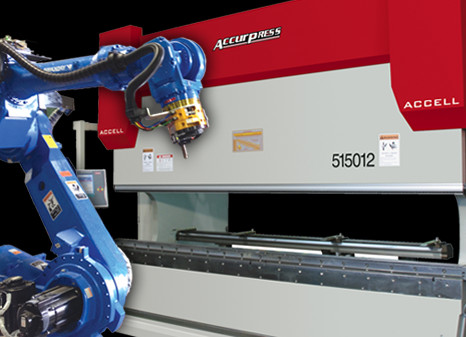 Product Details
The Accell U Upgrade Package builds on the already impressive standard features of the Accell E Press brake to provide even more functionality and flexibility. This specialized machine can handle any forming challenge or production run with ease. The Accell Upgrade Pacake is available for Accell Models from 175 ton x 10' to 500 ton x 20'
Accell Upgrage Packages includes:
Throat Depth: 16" Throat Depth on machines up to 250 ton models. 18" Throat Depth on 350 – 500 ton models.
Double Bending Speed: On models up to 350 tons: Standard Bending Speed can be doubled from 24" to 48" IPM enabling maximum productivity over production runs.
Control Screen Upgrade: The Vision Screen features the robust Beckhoff control head complete with keyboard/ mouse tray and additional USB port.
Optional ETS3000 Control: This option offers consistency for shops already familiar with the ETS3000 control.
Additional Stroke Lengths/Open Height: This upgrade package provides optional additional Open Height and Stroke Lengths.
Material Compensation Features: Material Thickness Sensing, Teach Crowning and Pressure Compensation all provide real-time positional adjustments based on material variance.
Forming Accuracy: The Accurpress Accell-U offers the ultimate bending precision of +/-0.0002 repeat and +/-0.0004 parallelism positional accuracies across the length of the press brake, including the outside distance of the side frames via the electronic/hydraulic closed loop control system and glass scale encoders. Enhancements to overall accuracy is produced via the built-in COMP package to compensate for the small differences in the metal being formed.
Front Bed Machining: Front bed machined for (OPTIONAL) Precision Sheet Supports and/or Sheet Follower System. These can easily be added for future retrofits.
The 4-point Roller Ways System: Provides the needed stability in Ram Motion for even larger custom Open Height and Stoke Lengths.
The Accell U Press Brake is available with many gauging and machine options to suit your production needs and budget.