GEKA ALFA 500/150
Condition:


New

Manufacturer:


GEKA
About GEKA
Neiman Machinery Sales Inc. is the Canadian importer and master distributor for GEKA products. We offer superior knowledge and technical support, therefore, providing you with prompt and informative responses to your questions or service-related concerns. Our vast knowledge and experience in the metal fabrication machinery trade provides confidence. We will be glad to help you determine if a GEKA Ironworker, Punching Machine or an Automated Steel Processing Line will be the right choice for you. As the Canadian Importer/Distributor we have a comprehensive dealer network across Canada which will support you with sales, training, service, technical support and application engineering. Like our own staff, our dealers take part in our yearly factory training as well as attend other educational seminars and personal improvement courses. What does this mean for you? It's your insurance that you'll have the backing of a Certified GEKA Dealer to lend a hand whenever you need us.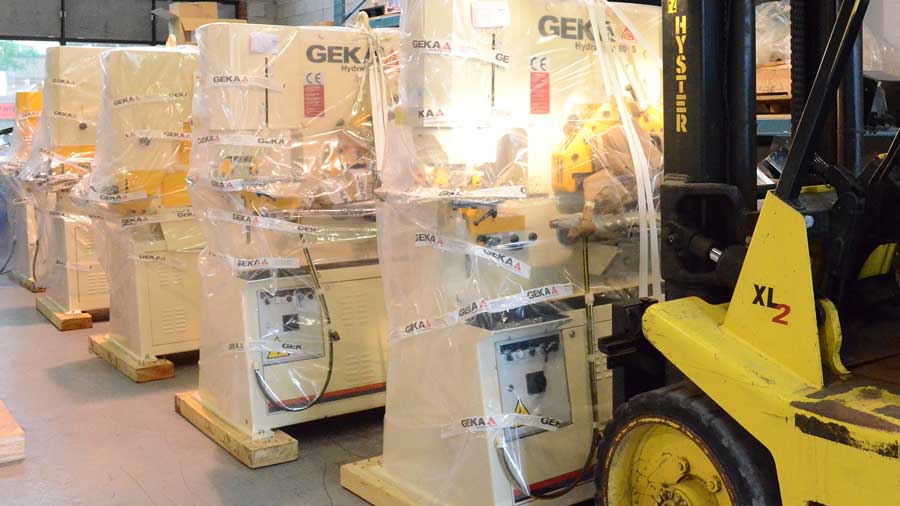 Product Details
CNC-controlled automated line for punching and shearing flat bar and angles. Upgrades include mountable marking unit and a rotary shear cutter. Increased versatility ideal for manufacturers of metal truss structures and steel fabricators.
Flat bars up to 40' in length are positioned and secured clamped by means of an automated carriage unit employing pneumatic rollers. This line is equipped with a single-head punching unit for diameters up to 1 1/4" for vertical-wing punching of angles, as well as a triple-head punching unit for diameters up to 1 9/16" for flat-bar and horizontal-wing punching of angles. As well as a shearing station for over-sized material up to 20" in width, with a thickness up to 3/4". A multi-task three-in-one station.
Peripherals Available
AUTOMATED FEEDER
MITER SHEAR UNIT
MARKING
LINE PRO SOFTWARE
DRILLING UNIT
Media Gallery