About EUROMAC
Euromac is a world-leading supplier of metal fabricating machinery. Euromac's first-class product line-up includes CNC punching machines, CNC electric press brakes, horizontal CNC bending machines and notching machines. Euromac designs, develops and manufactures by utilizing the newest technologies in order to meet today's demanding market needs, maximizing your efficiency, ease of use and most importantly, your profitability. EUROMAC meets your ambitions...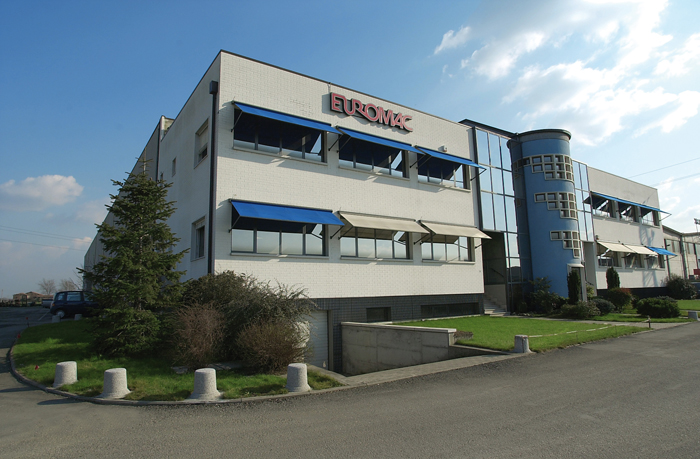 Product Details
FX Bend 850
Direct drive motor and bottom pull
Maximum efficiency and reliability (no unnecessary links and moving parts), maximum acceleration (low inertia), strength and precisions (no deflections on the ball screw while applying forces.
Monoblock frame
The frame is made out of two interconnected Meehanite (700 N/m2 resistance) monoblock frames. This delivers maximum rigidity, reliability and accuracy for your parts. Thanks to the ergonomic frame design the user works in comfortable positions, the machine allows bends up to the maximum table length and tools are easily removed from the side.
Speed of 200 mm/sec and deceleration on the last 2 mm of approach stroke
Thanks to the direct drive, short screw and pull system, the FX bend reaches quickly the top speed and can decelerate to a safe speed in a short distance (2 mm).
the side.
Three backgauge options
2 Axes
X & R
X axis stroke 400+400 mm
Z1 and Z2 manually movable
4 Axes
X, R, Z1 & Z2
Fully automatic and programmable
X, R and Z1 and Z2 axes
6 Axes
X1 ,X2, R1, R2 & Z1& Z2
Fully automatic and independent move- ments. Carbon fiber elements reduce the weight of the fingers allowing speeds up to 1000 mm/sec. Short and fast decelera- tions. Maximum productivity at a glance
Two tool types
Wila (New Standard)
Standard configuration:
• Upper tool holder with automatic clamping system
• Lower tool holder manual
Optional configuration:
• Upper and lower tool holder with automatic clamping system.
Promecam (European)
Standard configuration:
• Upper tool holder with maual clamping system and quick lever (no tools needed)
• Lower tool holder with manual clamping system, quick lever and compatible with Wila (new standard) type dies.
Guarding system
Two choices of brake guarding system from Lazer Safe offering highly effective solutions for both the operator safety and machine productivity.
LZS-004 Dual Laser
Allows the operator to safely work close to the tools even as the RAM and backgauge move at high speed. The maximum speed can be held up to 6 mm distance from the part. The system continuously monitors the speed and stopping performance of the pressing beam.
LZS-005 Block Laser
Using a Class 1 block laser system and a digital camera receiver allows the change of speed point (from maximum to safe speed) to be down to the last 2 mm of the part edge. This results in faster cycle times and ensures maximum productivity.
Control Unit
The control unit is a PANASONIC Thoughbook.
• Anti-glare touch-screen LCD,
• Water and dust resistant (IP65).
• Up to 9 hours battery power backup
• Impact resistant*
• Windows® 7 Professional
• USB and WiFi connection