About GEKA
Neiman Machinery Sales Inc. is the Canadian importer and master distributor for GEKA products. We offer superior knowledge and technical support, therefore, providing you with prompt and informative responses to your questions or service-related concerns. Our vast knowledge and experience in the metal fabrication machinery trade provides confidence. We will be glad to help you determine if a GEKA Ironworker, Punching Machine or an Automated Steel Processing Line will be the right choice for you. As the Canadian Importer/Distributor we have a comprehensive dealer network across Canada which will support you with sales, training, service, technical support and application engineering. Like our own staff, our dealers take part in our yearly factory training as well as attend other educational seminars and personal improvement courses. What does this mean for you? It's your insurance that you'll have the backing of a Certified GEKA Dealer to lend a hand whenever you need us.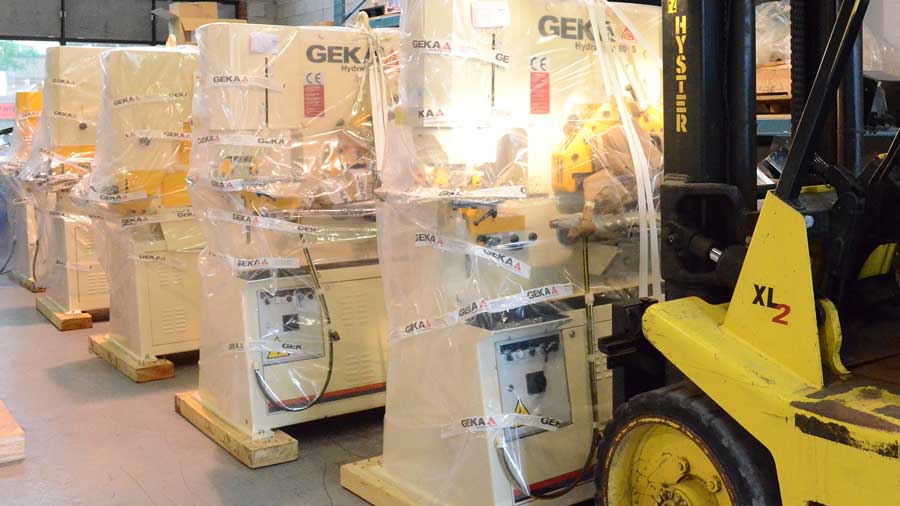 Product Details
Hydracrop 55/110
Versatile and excellent price-quality balance ironworker. Two simultaneous work stations. Five work stations: punching, shear of iron section L
Main features
Two hydraulic cylinders ironworker with two simultaneous work stations and five work stations.
· punching (550 kN power)
· notching
· shear of iron section L (1100 kN power)
· shear of flatbar
· Cut of round and square bars
"S" VERSION
· Machines driven by two cylinders.
· 5 work stations, fitted with tools for L , shearing, round and square bars, rectangular notching and punching
· Quick change punch
· Flat bar shearing table with adjustable guides
· 2 simultaneous work stations
· Greater speed backed by a powerful hydraulic unit.
· Special equipment for approaching at reduced pressure and slow speed.
· Precision punching table with X & Y measuring stops.
· Precision notching table with X & Y measuring stops
· Ready for production pack comprising:
o One meter "touch & cut" length stop with fine adjusting.
o Lamp for enhanced vision of cutting zones.
o 10 sets of round punches and dies.