About GEKA
Neiman Machinery Sales Inc. is the Canadian importer and master distributor for GEKA products. We offer superior knowledge and technical support, therefore, providing you with prompt and informative responses to your questions or service-related concerns. Our vast knowledge and experience in the metal fabrication machinery trade provides confidence. We will be glad to help you determine if a GEKA Ironworker, Punching Machine or an Automated Steel Processing Line will be the right choice for you. As the Canadian Importer/Distributor we have a comprehensive dealer network across Canada which will support you with sales, training, service, technical support and application engineering. Like our own staff, our dealers take part in our yearly factory training as well as attend other educational seminars and personal improvement courses. What does this mean for you? It's your insurance that you'll have the backing of a Certified GEKA Dealer to lend a hand whenever you need us.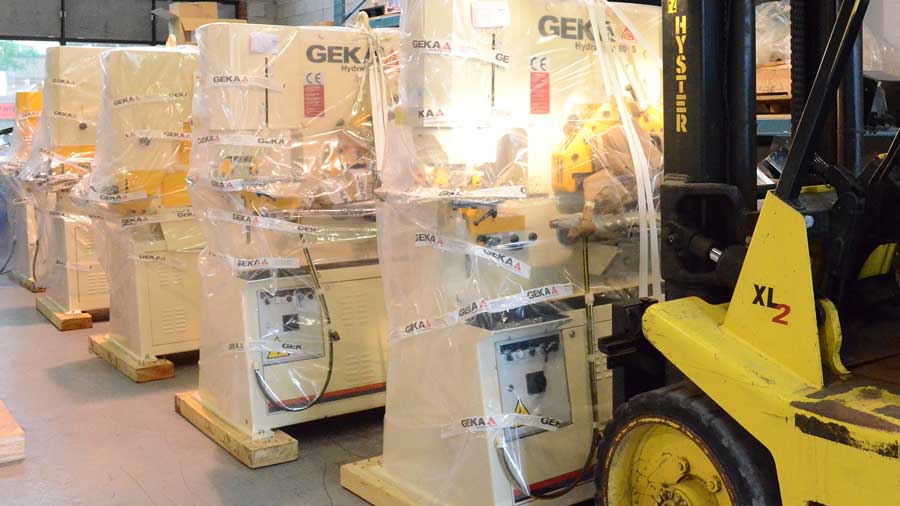 Product Details
Bendicrop 50
Is a single cylinder Ironworker with five work stations (Punching, Bending, Shearing, Angle/Bar Cropping & Notching) exclusively from GEKA. No need to change or add tooling with its unique permanent built-in press brake station complying with CE standards. This Bendicrop model has an excellent performance rating in all its five work stations making it one of our most popular machines. Perfectly suited for maintenance shops, schools, farm operations, small to mid-sized production shops, etc. Available in both SINGLE-phase (1/60/220v) and three-phase electrics along with the largest array of optional tooling to meet your needs.
Main Features:
Single-cylinder Ironworker with five work stations. An exclusive ONLY from GEKA.
Permanent bending station complying with CE standards.
Thanks to the blade holder's vertical movement, machine has an excellent performance rating in all its five work stations:
Punching
Notching (Rectangular)
Shear for flat bars
Cropping (Angle/Bars)
Press brake (Bending)
Fitted with an anti-torque system in the shearing station provides shearing without deformation when shearing flat bars/plates, (Especially when cutting of soft materials such as copper, aluminium, etc.)
The BENDICROP 50 model is fitted with a 1-meter (39") length electric "touch and cut" back-gauge stop and is delivered with two V-dies of 40 mm (1.5") and 70 mm (3").
Other Features:
Removable front table on the punching station allowing punching close to the "leg" when punching angle.
Goose neck die-holder for punching of profiles (H and I-Beams) on legs and webs.
Quick change tooling system.
Throat depth of 177 mm (7")
Angle shearing without loss of material.
Wide range of openings for square & round bar cropping.
Flat bar and plate shearing system with minimum deformation (Anti-Torque System) and angles shearing up to 45º.
Rectangular notching with table & guides. As an optional; tube notching, triangular notching and more.
Large work tables with recessed scales and guides for punching, shearing, notching & cropping stations.
Many optional tooling choices to make your Bendicrop 50 extremely flexible. Popular accessories such as laser marking, over-sized punching, tube notching/punching, work light & punch and die kits.
Two (2) year parts warranty.