About EUROMAC
Euromac is a world-leading supplier of metal fabricating machinery. Euromac's first-class product line-up includes CNC punching machines, CNC electric press brakes, horizontal CNC bending machines and notching machines. Euromac designs, develops and manufactures by utilizing the newest technologies in order to meet today's demanding market needs, maximizing your efficiency, ease of use and most importantly, your profitability. EUROMAC meets your ambitions...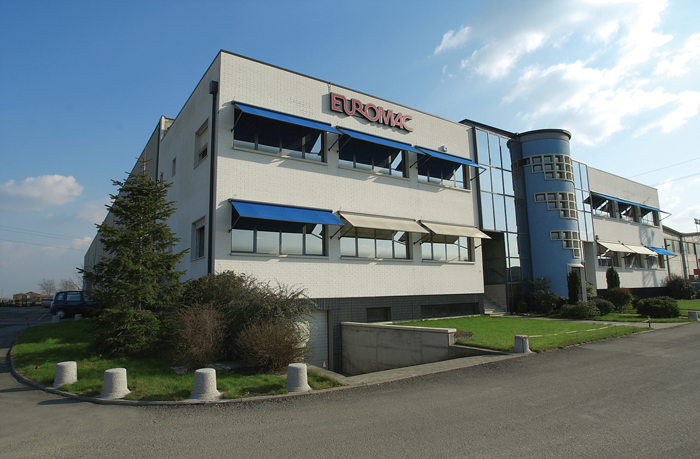 Product Details
Technical Data
Automatic blade gap adjustment (European Patent n. 1.214.004), to ensure perfect cuts with different thicknesses (from 1 to 6 mm) and types of material with no burr, no time loss and no manual interspace adjustment.
Absolute rigidity of the notching unit monoblock ensured by two Meehanite 650 N/mm² steel castings joined together in a monoblock with three guides, two sides columns and a central guide.
Symmetrical and no-symmentrical adjustment of the notching angle varying from 30° to 140° (for VA).
The hydraulic clamping acting on the blades with 2 hydraulic cylinders ensures the positioning of the selected cutting angle.
Security device: when the blades are in unclamping position, the machine cannot perform notching operations.
The monoblock construction together with 3 guides guarantees a long trouble free machine life. No other technical solution can be compared to the results obtained by Euromac machines.
Reversible blades with possibility to choose positive cutting (starting to cut from the front adge) or negative cutting (starting from the rear side). On all VA models reversible blades at 30° positive and 60° negative are standard assembled.
Selector for functioning in single step or step by step.
Shearing function for cutting using a single blade with internal depth stop rod.
Step by step cut with no length limit and with no interruption of the cutting operations thanks to the guide (zero setting) aligned with the front edge of the blades.
The stroke adjuster enables to limit the stroke and to increase the number of notches per min. for cutting low dimensions (with positive blades).
Protection of the cutting area guaranteed by a robust Macrolon shield allowing a perfect visibility of the protected working zone.
No need of lubrication for central columns and cental guides.
The second rear working position allows the notcher VA 30/140° to perform punching, bending, radiousing, rectangular cutting operations and the use of the notcher as a 18 ton press.
Working table extensions of 310 mm with 2 side ad 1 trasversal T slots
Gap of 270 mm.
Central slot of 50x100 mm. to accept punching and shearing tools and the backgauge.
Head extension of 285 mm.
Rerar safety cover fitting with top opening.
Security device reducing working speed to 10 mm/sec (with rear cover lifted up).
Speed adjuster from 0 to 10 mm/sec (in bending operations).
Pressure adjuster.
Designed to accept standard punching tools Trumpf style, rectangular cutting tool 25 x 100 mm, bending tools 415 or 835 mm, radiousing tool, the use of notcher as 18 Ton press, and possible special tools.
Rapid clamping of the Trumpf style punching tool with eccentric.
Parallelism adjustment of the bending punch by means of two cones between the head and the bending punch.
Possibility to punch metal sheets with a max length of 270 mm and rotating them to punch up to 540 mm.
| | |
| --- | --- |
| Variable cutting angle VA | 30° - 140° |
| Blade clearance adjustment | Automatic |
| Blade lenght (mm) | 220 |
| Max. thickness | |
| R = 42Kg/mm2 | 6,5 |
| R = 60Kg/mm2 | 5 |
| Strokes/min | |
| at max. cutting length | 50 |
| at 50 mm of cutting | 80 |
| Working height (mm) | 900 |
| Oil tank capacity (Lt) | 50 |
| Motor (Hp - Kw) | 5,5 - 4 |
| Approx. weight (Kg) | 800 |
| Working table dimesions (mm) | 950 x 1030 |
| Overall dimensions (mm) | 1100 x 950 x 1280 |
| Max. pressure (ton) | 18 |