About NOSSTEC
NOSSTEC (formerly LUNA) is a manufacturer of bending rolls, known world-wide for their high quality. Whether you're in the lighting industry, manufacturing mufflers, a HVAC manufacturer, or in the architectural or general metal industry, NOSSTEC offers a range of machines from manually-operated, motor-driven and CNC controlled bending rolls to meet your needs. "At NOSSTEC we believe very strongly in producing bending roll machines made with pride and superior quality. For us, superior quality means a lifetime of the machine and also the best sustainability for our customers' investment."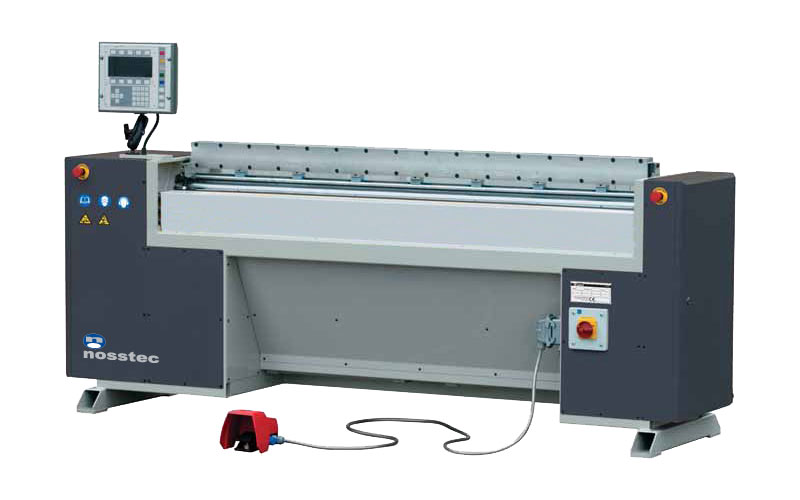 Product Details
Suitable for small to medium production as well as complex shapes, the 8344 CNC can bend profiles with variable radii and sections. The design with three lower bending rolls, mounted in a cassette, which is swivelling and adjustable in height, enables bending of very complex profiles in one single operation. The three rolls of the cassette are used as prebending roll, bottom roll and final bending roll. The cassette system also allows exchange of the rolls to other dimensions (applies to 70, 80 and 90 mm). The special design of the machine and the location of the four rolls eliminate all intermediate handling of the sheet between the prebending and the final bending. This simplified working method also means that the storage space around the machine can be reduced, a higher repetition accuracy is achieved as well as a higher productivity.
The adjustment of the cassette into the programmed position is carried out by means of ball screws. When bending is finished the lock clamp on the right hand side opens for the removal of the profile, if the profile is not closed, this function can be eliminated in the control program.
As standard the machine is delivered with hardened and ground rolls, motor 400V 3-phase and 24V control voltage.
CNC-control with the capacity to store 200 programs in internal memory and nearly unlimited by attaching an external USB flash drive
Pre-bending and final bending in one cycle
All four rolls are driven
Crowned rolls
Programmable axis
Designed for highest accuracy
Rolls mounted in changeable cassette system
Openable locking arm
Adjustable crowning of the lower roll
Program backup through external computer or attached USB flash drive
The programming of the machine is facilitated by different menus available on the screen. In order to further simplify the programming, the control buttons are of multi-function type, whose functions are automatically changed when changing menus. The CNC has a internal storage capacity of 200 programs or near unlimited with an external USB flash drive.
The program consists of sections, where each section is provided with a bending value. This enables easy and quick programming of the machine for different bending operations. The CNC system can operate with interpolation, where the rolls are adjusted simultaneously with the feeding operation.
Options:
Adjustable crowning support
Chromium-plated rolls
Adiprene-coated rolls or rolls with grooves
Stacking tables
Programmable support arm
Additional safety equipment
Infeed and outfeed equipment