NOSSTEC CNC control bending roll 8835
Condition:


New

Manufacturer:


NOSSTEC
Model:


8835

Status:


For Sale
About NOSSTEC
NOSSTEC (formerly LUNA) is a manufacturer of bending rolls, known world-wide for their high quality. Whether you're in the lighting industry, manufacturing mufflers, a HVAC manufacturer, or in the architectural or general metal industry, NOSSTEC offers a range of machines from manually-operated, motor-driven and CNC controlled bending rolls to meet your needs. "At NOSSTEC we believe very strongly in producing bending roll machines made with pride and superior quality. For us, superior quality means a lifetime of the machine and also the best sustainability for our customers' investment."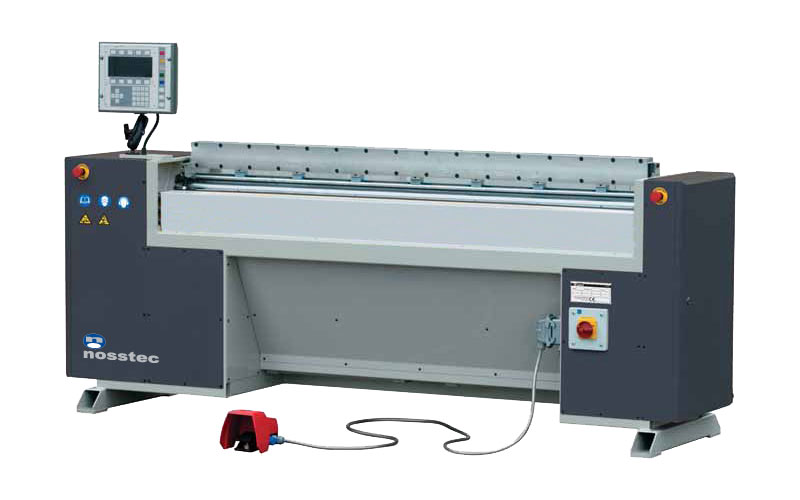 Product Details
The 8835 is a bending roll machine for the production of small radius louvres and reflectors to meet the demands of the latest small diameter light tubes.
The machine is designed with three independant bottom rolls to reduce production time to a minimum. All rolls run in adjustable support bearings to permit easy roll adjustment for materials of different hardness and thickness. The top roll crowning is carried out by means of a crossbeam, which tilts to make room for the bent part. All rolls are hardened and chromium-plated with polished surfaces to avoid marking. All four rolls are driven in order to avoid scratches on easily damaged sheets from slipping rolls. The control system allows programming of constant radiusparts as well as parabolic shapes.
CNC-control with the capacity to store 200 programs in internal memory and nearly unlimited by attaching an external USB flash drive
Pre-bending and final bending in one cycle
All four rolls are driven
Crowned rolls
Programmable axis
Designed for highest accuracy
Front-roll or back-roll position can be programmed to flexibly vary bend diameter
Adjustable crowning of the rolls
Program backup through external computer or attached USB flash
The programming of the machine is facilitated by different menus available on the screen. In order to further simplify the programming, the control buttons are of multi-function type, whose functions are automatically changed when changing menus. The CNC has a internal storage capacity of 200 programs or near unlimited with an external USB flash drive.
The program consists of sections, where each section is provided with a bending value. This enables easy and quick programming of the machine for different bending operations. The CNC system can operate with interpolation, where the rolls are adjusted simultaneously with the feeding operation.
Options:
Stacking tables
Infeed automation
Outfeed automation
Online feeding unit 1700
Photo Gallery