About EUROMAC
Euromac is a world-leading supplier of metal fabricating machinery. Euromac's first-class product line-up includes CNC punching machines, CNC electric press brakes, horizontal CNC bending machines and notching machines. Euromac designs, develops and manufactures by utilizing the newest technologies in order to meet today's demanding market needs, maximizing your efficiency, ease of use and most importantly, your profitability. EUROMAC meets your ambitions...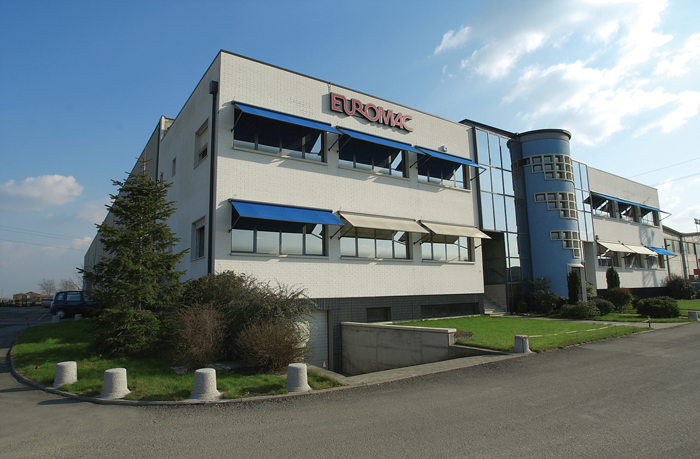 Product Details
EUROMAC Automatic Loading & Unloading System.
Optional automatic loading & unloading system. Featuring a unique, compact and robust design, the Euromac Automatic Load/Unload System fits on all Euromac machines and it can be shipped fully assembled so that the installation at the customer site is made fast and easy.
• Maximun load flexibility for non standard formats from min. 250 x 500 to max. 1500 x 3000 mm & standard formats of 1000 x 1000 mm – 1000 x 2000 mm – 1250 x 2500 mm – 1500 x 3000 mm
• Load deck capable of loading 3000 kg and 300 mm high material • Movable unload deck capable of holding 3000 kg and 400 mm high material
• Loading deck with 26 suction cups arrangeable on aluminium profi les, load check systems with: - 3 magnetic steel sheet separators - shaker system - air blow within sheets - automatic measurement of sheet thickness - sheet presence check system on suction cups - sheet presence check system on clamps - Nr. 4 cylinders on the table for sheet reference positioning
• Vacuum weight capacity: 18 kg per cups (total weight: max. 150 kg)
• Sheet movements, up down and translation through bushless motors
• Integrated software (TopPunch) programming and control on STX - MTX - ZX
• Single unit for machine programming and loading/unloading system control
• Visual machine status check thanks to fl ashing light
• Minimum pressure check system (6 bar required)
• Dimensions: 3800 x 2250 x 2280 (H) mm
• Approx. weight: 3500 kg
• Compact and robust design, no disassembly required for transport
• Fast and easy installation
• Hooks for crane lifting and fork lift integrated slots
Avaialble with new machines and as retro-fit to existing machines.