HAEGER 618 MSPe
Condition:


New

Manufacturer:


HAEGER
About HAEGER
Haeger, a PennEngineering® Company, manufactures hardware insertion machines, we are the world leader in the development of innovative fastener insertion technology solutions. Haeger has introduced its full line of machines which provide our SingleTouch Part Handling Technology. These machines allow the insertion of up to four different fasteners in a single handling of a part. The Technology offers the single most significant boost to hardware insertion productivity since the introduction of automatic tooling systems. Haeger machines Create Hardware Insertion Profit Centers™ by optimizing labor, improving quality, and increasing productivity through the use of technology. For nearly 40 years, Haeger has pioneered and manufactured machines and tooling systems for inserting nearly every type and size of self-clinching fastener imaginable. And, the development continues – we're constantly creating new technologies for inserting nearly every type and size of self-clinching fasteners into all varieties of materials. Haeger's engineers can solve insertion challenges that no one else can, whether it's engineering, production, technical service or sales and marketing. Our staff brings experience, expertise, and diversity of talent second to none. In 2018 Haeger, Inc. became part of PennEngineering®.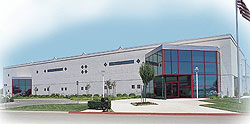 Product Details
618 MSP e
6 tons (54kN) ram force and 18 inches (457mm) throat depth. Reliability and energy efficiency of a fully hydraulic machine. Equipped with Haeger's patented safety system. Variable dwell timer for use with hard materials. Adjustable ram retract positioning, including standard batch counter and TPS (Tooling Protection System) make fao an excellent choice for your fastener Insertion needs.
You can use the 618 MSP e as a manual machine or with automatic feed and tooling for fast production. Haeger's Multi-Shuttle Tooling platform and TIS allows for single-part handling of your parts.
MAS 9 or MAS 350 Modular Autofeed System (Optional)
The MAS 9 or MAS 350 Modular Autofeed System can be added to the standard machine. The MAS works with nuts, studs & standoffs sizes 4-40 /M2 through ¼-20 /M6. Maximum stud & standoff lengths up to 30mm.
Always the most cost effective solution for your fastener insertion challeges!
Media Gallery