About EUROMAC
Euromac is a world-leading supplier of metal fabricating machinery. Euromac's first-class product line-up includes CNC punching machines, CNC electric press brakes, horizontal CNC bending machines and notching machines. Euromac designs, develops and manufactures by utilizing the newest technologies in order to meet today's demanding market needs, maximizing your efficiency, ease of use and most importantly, your profitability. EUROMAC meets your ambitions...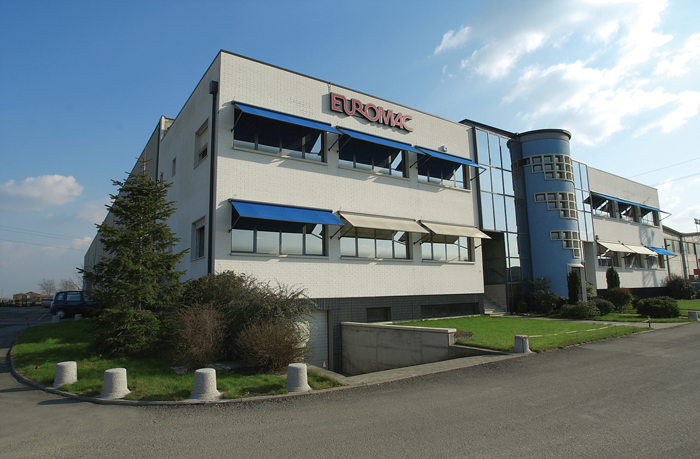 Product Details
With our Euromac CNC Digibend horizontal benders you get the maximum bending flexibility. Click on the above Catalog/Specification button to see this amazing machine.
CNC controlled horizontal bender available in three versions - predisposed for CNC backgauge, or with a 1250 mm (49") or 2000 mm (78") travel CNC backgauge. Maximum bending flexibility with a variety of standard tools. 200 kN power (20-tons)
• The monoblock frame in a unique strong nodular cast iron (Meehanite 600 N/mm²) has been computer asssisted designed according to the fi nite element method. The monoblock frame incorporates the working cylinder to ensure the maximum rigidity during the press operation.
• 2 tool clamping systems on the wide working table a) 1 central hole Ø 80 for rapid clamping b) 2 side holes Ø 50 interaxis 360 mm
• Max. tool high: 200 mm.
• Electronic stroke adjustment with digital readout, by means of a transducer for max. precision of ± 0,10 mm
• All working parts are hardened and grounded.
• Digibend is at the same time fl at bars and tube bending, press, shearing, punching and straightening machine.
• The CNC backgauge is programmable from the main board.
• Automatic programmable piece release.
• Automatic slow down in bending, programmable from 10 to 195 mm. stroke. (not on Digibend 200e)
• High precision (± 0,10 mm) for a sequence bending.
• Easy programming with working parameters in required language: Chinese, Czech, German, Greek, English, Spanish, Persian, Finnish, French, Hungarian, Italian, Korean, Lithuanian, Dutch, Polish, Rumenian, Russian, Slovenian, Thai, Turkish & other languages.
• Electronic stroke adjustment with digital readout.
• Control panel for programming and memorizing up to 255 working positions.
• Readout for bending parameters
• Possibility to store up to 80 bends in a working sequence and to memorize up to 55 sequences
• Selector for 3 working functions: by single stroke - step by step - automatic.
• Bending capacity for wide thicknesses up to H.200 x 15 mm (and beyond).
• Store and search of programme through its name and additional information: die type, punch type, thickness, and desired angle.
• Pedal with security switch.
• CNC backgauge option available.
• Micro SD card for programme back-up.